Conor Shannon – Laois GAA Games Development Administrator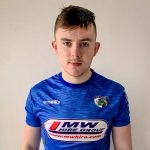 I am a recent first class honours degree graduate of the BSc. Sport and Exercise Sciences programme at the University of Limerick. I am particularly interested in and passionate about athletic development and coach education in particular.
In my role as a Games Development Administrator, I have some very enjoyable tasks. Firstly, a key component of my role is in the area of club support and engagement. Primarily, I engage with the hurling clubs across the county, offering coach mentoring and coach education initiatives, offering same to a small number of football/dual clubs in the county. The roll out of coach education and TURAS player pathway programmes, is an important facet of my role.
Secondly, I am responsible for organising our Go Games programme. This is an important strand of my role, as it is vital to ensure the provision of a successful and flourishing games programme for children across the county, ensuring all children and all clubs get adequate games opportunities. Occasionally, I deliver physical literacy and skills coaching in primary schools across the county; providing children with opportunities to meet their weekly physical activity levels, whilst developing their fundamental movement skills, is an area I am particularly interested in, and I feel it is very important for their holistic development.
Additionally, I am heavily involved in our hurling academy structure. I am responsible for the design and implementation of sessions for our squads, liaising with the academy coaches to ensure that sessions are cohesive and impactful. In this area, I am also involved in providing athletic development support to both the football and hurling academy players. Finally, I also assist in the rollout and coordination of other initiatives such as Cúl Camps, coach education, athletic development education to name but a few.