'Sport your Mind' (online) is now available to Sports Club across the Midlands
Part One: teaches the early warning signs of mental health difficulties Coaches & Parents can look out for in young people as well as the simple, supportive steps which can help. It also provides information on the range of support services available. Duration 1½ hrs.
Part Two: invites Sports Clubs to avail of the Living Works 'Start' Programme; an online suicide prevention programme that improves knowledge and teaches skills to keep others safe from suicide. Duration 1½ hrs.
For more information: contact Anthony O'Prey, Health Promotion Officer (Mental Health) aoprey@offalyldc.ie or 087 178 5685.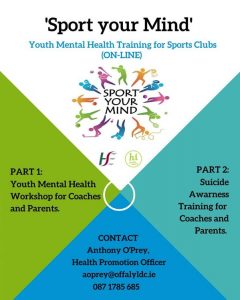 By Leona Conroy
Sat 20th Feb