It's Crunch Time: The most significant game yet in the Senior Hurling Championship so far this year: the Relegation Final fixture of The Harps vs Borris Kilcotton, takes place on Wednesday August 30th in Laois Hire O'Moore Park. Throw in is at 7.15pm.
Tickets: Reminder that these are ticket only games with a ticket charge of €5-€10 which can be purchased online here: https://www.universe.com/users/laois-gaa-82QTP6
OAP and Season Passes are applicable for admission to this game.
Follow the match live on Twitter: Https://twitter.com/CLGLaois
For all other Club fixtures & results visit: https://laoisgaa.ie/fixtures-results/
Best of luck to all involved!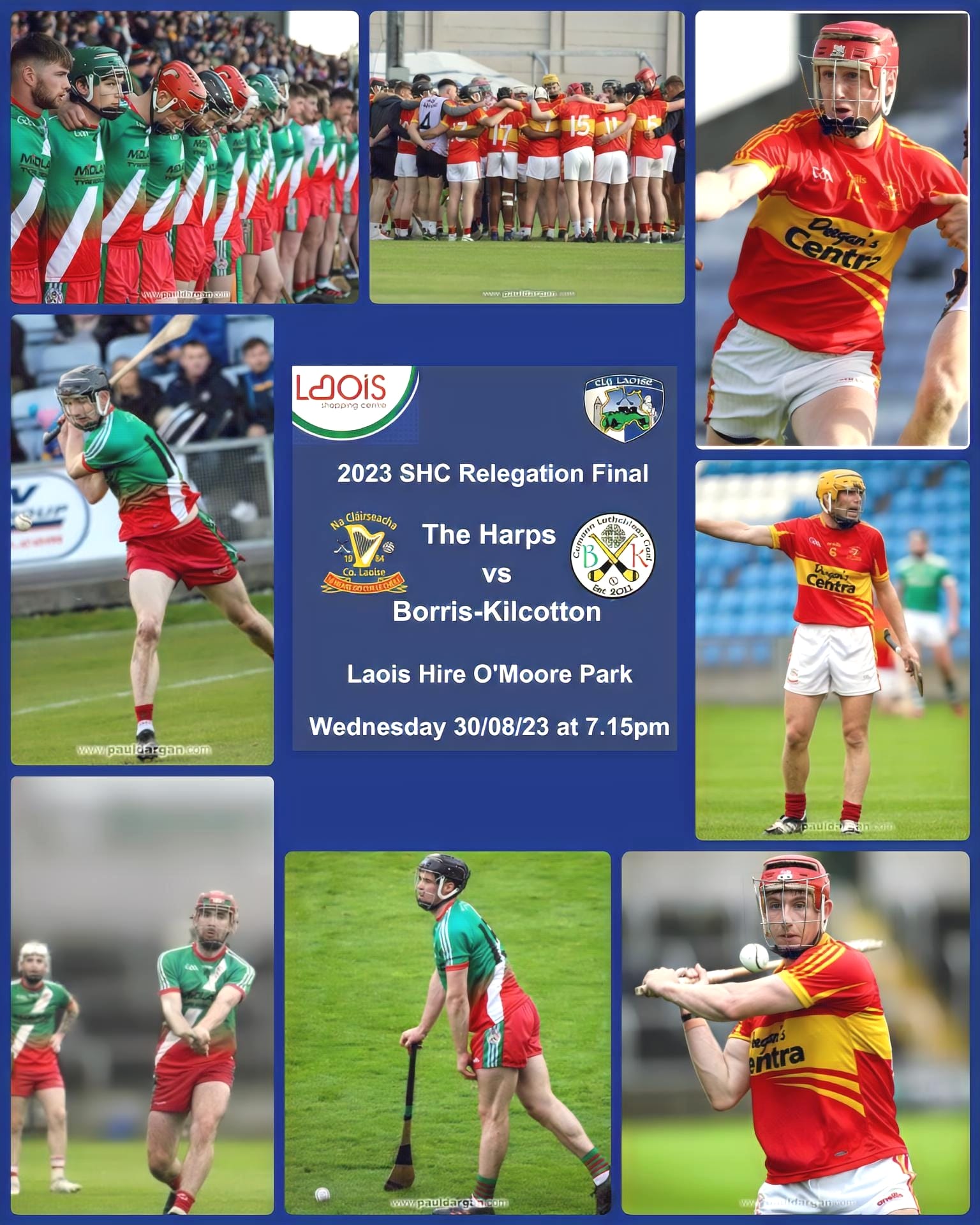 High Stakes: This is a particularly exciting and anticipated fixture for both fans and neutrals alike because of the difficultly to predict the result of this game, with both sides evenly matched and because the stakes are at the highest level yet this year with the following permutations being: the winner maintains their Senior hurling status for the 2024 campaign, competing again in the SHC next year whilst the loser will become a Premier Intermediate club and will be relegated to compete in the 2024 Premier Intermediate Hurling Championship. Both The Harps and Borris-Kilcotton have greatly improved since Round 1 and as Round 3 concluded 2 weeks ago, both sides had reached peak levels with superb displays and their best of the Championship campaign in Round 3. Despite both sides fighting for relegation now, it is not for of a lack of heart, bravery, talent or fantastic hurling skill as both teams have some of the SHC's top players in their line ups and notable strengths.
Upsetting the odds: Last time out in Round 3, Borris-Kilcotton produced possibly the biggest shock of the entire 2023 SHC campaign so far, with their very well deserved 4 point win over heavyweight side and SHC title favourites: Camross. The Harps likewise put up an intensely strong fight, proved they are not to be underestimated and were a surprisingly difficult challenge for another SHC title favourite in Rathdowney-Errill to overcome. Rathdowney-Errill got over the line in the end with a 4 point win but the scoreline did not reflect how outstanding The Harps were on the night. The Harp's Jim O'Connor was unlucky not to have goals under his belt after his efforts were stopped only by a strong goalkeeping performance from Rathdowney-Errill's Ben Campion. With both these performances as preparation heading into the relegation final, both sides should have a major boost in both morale and confidence. With the pattern so far for these teams in the SHC suggesting that both The Harps and Borris-Kilcotton improve and produce Championship best performances as each game goes on, this relegation final is likely to see the very best of both.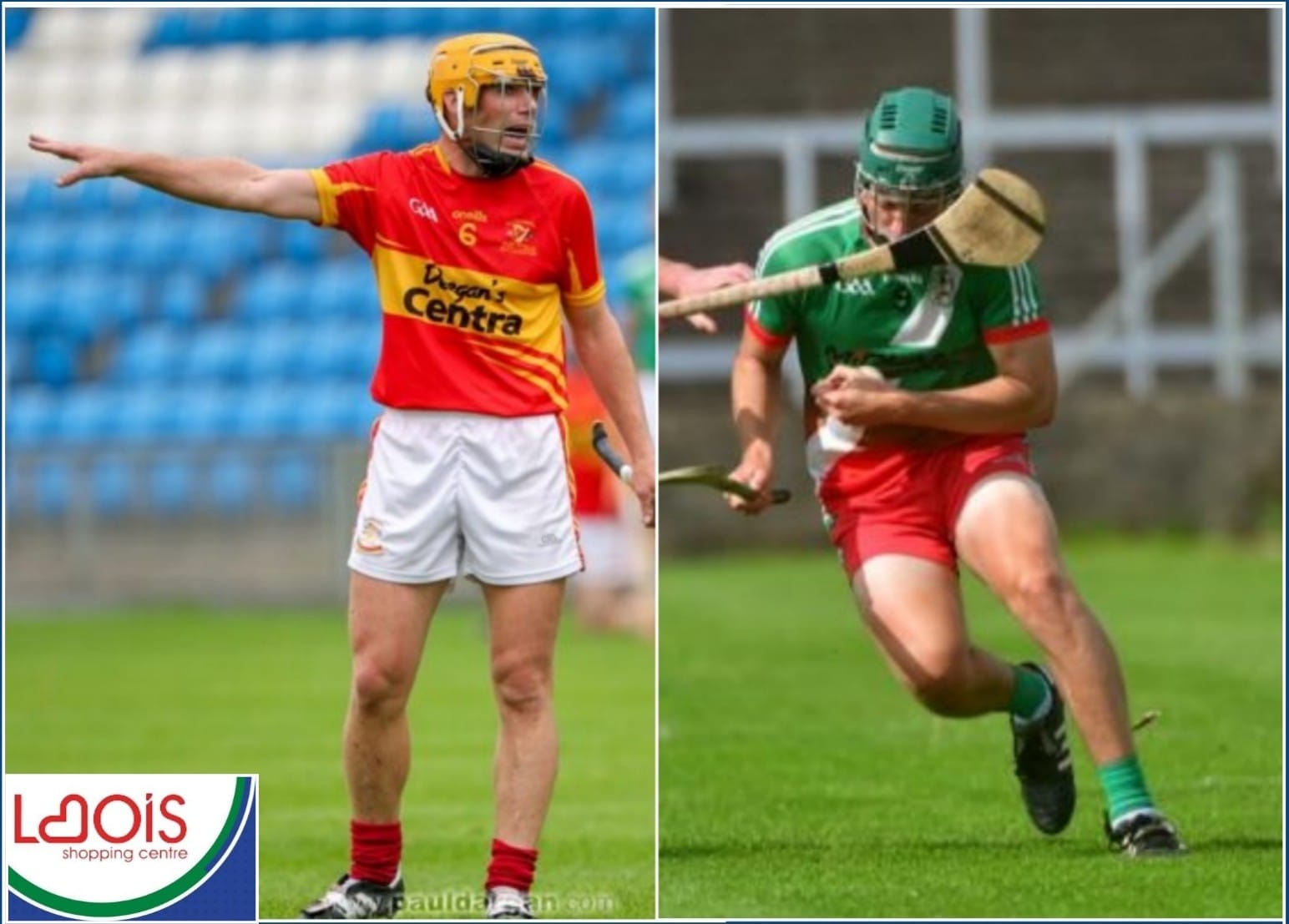 Results so far:
The Harps
Round 1: July 22nd 2023
The Harps: 0-17 (17)
Rosenallis: 2-14 (20)
Round 2: August 5th 2023
The Harps: 3-17 (26)
Clough Ballacolla: 5-26 (41)
Round 3: August 19th 2023
The Harps: 2-22 (28)
Rathdowney Errill: 3-23 (32)
Borris-Kilcotton
Round 1: July 21st 2023
Borris-Kilcotton: 2-13 (19)
Abbeyleix: 3-13 (22)
Round 2: August 6th 2023
Borris-Kilcotton: 1-14 (17)
Castletown: 0-21 (21)
Round 3: August 20th 2023
Borris-Kilcotton: 2-23 (29)
Camross: 2-19 (25)
Ones to watch: The Harps: continuing to stay in top form week after week is Ciaran Comerford. Who is one of the entire championships best forwards and currently in 3rd place of the ranked overall top scorer in the 2023 SHC thus far with an impressive total of 1-27 (30 points) Other notable players for The Harps upon the conclusion of Round 3 also are: Midfielder Ciaran Burke, an exceptional playmaker providing the perfect link and transition between the The Harps defense and attack. Defender Conor Dunne, alongside winning crucial balls in the half back line is versatile and has also scored 2 points from play. Alongside Ciaran Comerfords high tally, other notable scorers for The Harps include: James Duggan (1-9) Cody Comerford (1-2) Podge Delaney (1-1) Cathal Murphy (0-6) James Lappin (0-3) and John Brophy (1-0)
Pictured below: Ciaran Comerford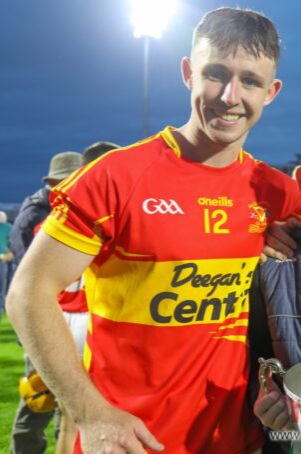 Ones to watch: Borris-Kilcotton: the standout player is PJ Scully. Who is currently sitting in 4th place in the 2023 SHC overall top scorer rankings with a stunning total of 4-16 (28 points). PJ Scully is equally as dangerous for Borris Kilcotton as Ciaran Comerford is for The Harps. Efficiently supporting PJ Scully has been Aaron Dunphy. He is equally as immense as an individual hurler with a total 12 points scored from play and ranked the 6th highest scorer from play in the SHC top scorer rankings. Alongside great strength in attack, is great strength in the Borris-Kilcotton goal. Goalkeeper Eoin Fleming has made some magnificent saves, notably in both the Round 1 game versus Abbeyleix and in the Round 3 game versus Camross. His services will be essential for Borris-Kilcotton in the relgation final. Having a goalkeeper in top form is a huge positive and crucial to coping with the possible upcoming threat from The Harps in attack. Other notable scorers for Borris-Kilcotton include: Jer Quinlan (0-8) Stephen Dunphy (0-8) Neil Foyle (1-3) and Dean Carey (0-2)
Pictured below: PJ Scully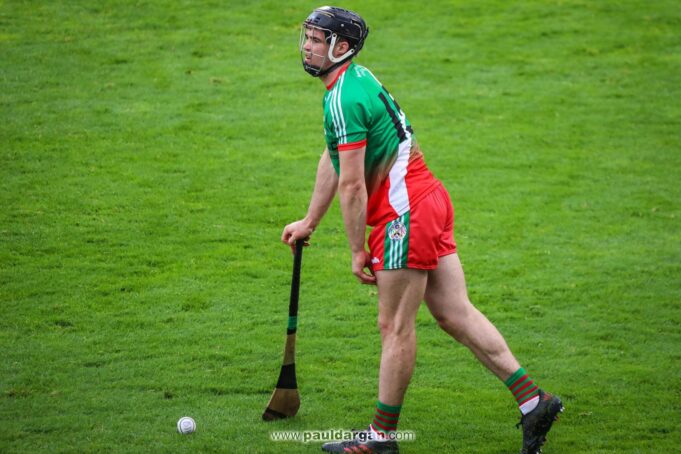 Previous meetings:
2015
Laois SHC Round 1 July 18th 2015 in Laois Hire O'Moore Park
The Harps: 0-15 (15)
Borris-Kilcotton: 2-23 (29)
2013
Laois SHC Round 1 July 23rd 2013 in Laois Hire O'Moore Park
The Harps: 2-9 (15)
Borris-Kilcotton: 0-20 (20)