Laois GAA wishes to inform all clubs of the upcoming exciting and memorable opportunity to represent Laois GAA in this weekend's Portlaoise Pride March.
The parade will take place this Saturday noon September 9th and any interested club representatives are asked to meet at the march assembly point which is located at Fitzmaurice Place just outside the Laois School of Music in Portlaoise at the time of 11.15 am. The parade march will commence here at 12 noon then make it's way through the town before culminating at Portlaoise Leisure Centre at an expected finish time of 1pm.
The aim if possible and it would be fantastic, if at least once representative from each club in Laois could join us. The plan for these representatives is: to proudly wear your own club jersey or county jersey during participation in the parade march.
The map for the exact route of the entire march on the day is as follows below: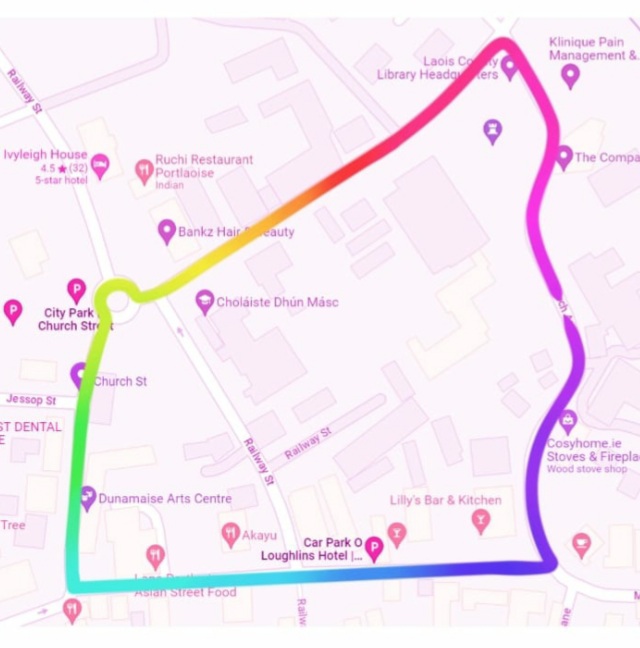 The goal of having Laois GAA club representation in attendance at this event is: to gather a diverse group of people that represent our country's vibrant spirit. Laois GAA representatives will attend alongside Laois LGFA and Laois Camogie Association representatives also, in order to maximize the impact of our presence on the day. Through this united front, we will symbolise the strength of our various organisations coming together to celebrate the spirit of inclusivity.
In order to greatly enhance Laois GAA's representation at this event: we greatly appreciate any interest and attendance would really mean alot to us as we will all come together to celebrate unity, diversity and pride.
How to sign up: To confirm your availability for attendance at this event and if you have any questions or suggestions in relation to the parade, please contact Bryan Breen (Laois GAA Assistant Treasurer and your point of contact on the day as event organiser on behalf of Laois GAA)
Contact information:
Email: Assistanttreasurer.laois@gaa.ie
Mobile: 085 117 7785