With only one week to go to the first of draws in the All County Clubs Members Draw tickets can still be purchased from your club and also from the link below.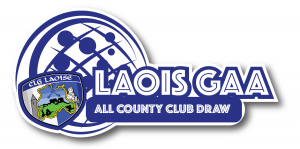 €31.5k in Cash prizes to be won every 4 weeks
Over €125k total prize money
Up to €115 from every Ticket Sale (after initial Draw Fund) goes back to local clubs – supporting your local club
Updated draw dates now changed due to Level 5 covid restrictions :

Draw 1 – Fri 30th April

Draw 2 – Fri 7th May

Draw 3 – Fri 4th June

Draw 4 – Fri 2nd July
We have great pride in our Club and great pride in our County. This Draw will give you the opportunity to support Your Club and Your County.
https://laoisgaa.ie/product/county-draw/
By Laois PRO
Fri 23rd Apr