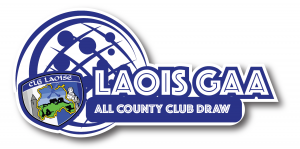 Laois GAA working together – The Laois way – Providing for the Future.
€31.5k in Cash prizes to be won every 4 weeks
Over €125k total prize money
Up to €115 from every Ticket Sale (after initial Draw Fund) goes back to local clubs – supporting your local club
Updated draw dates now changed due to Level 5 covid restrictions :

Draw 1 – Fri 30th April

Draw 2 – Fri 7th May

Draw 3 – Fri 4th June

Draw 4 – Fri 2nd July
We have great pride in our Club and great pride in our County. This Draw will give you the opportunity to support Your Club and Your County.