Ready to go for the First of the All County Club Members Draw – Friday 31st March 2023
Tomorrow Friday the 31st of March will see the first of our 4 All County Clubs Members Draws taking place in LOETB Centre of Excellence. With over €125,000 in prizes to be won across four draws this draw represents a vital fundraiser for your club and county.
As per last year, tickets are €130 and can be purchased from your club or online via www.laoisgaa.ie. Likewise as per other years, this years draws will be live streamed on the Laois GAA Facebook page so you can keep up to date with the latest winners as they are pulled from the drum!
With a first prize of €10,000 and a total of €31,500 given out in prize money in each draw, entry offers all participants a great chance of winning over the course of the four weeks.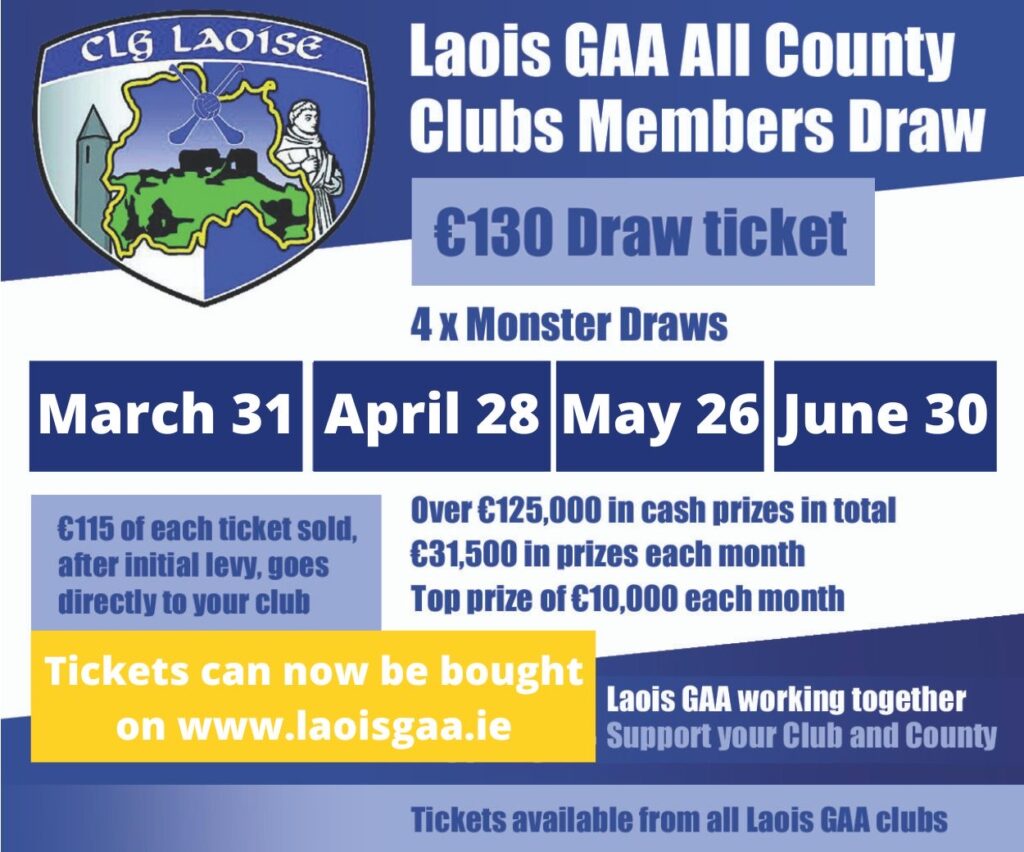 Laois County Board Secretary Niall Handy says: "The club is at the heart of your community. In times of difficulty and in times of hardship the GAA club is there as a rallying point for its members and its community. The benefits for your club in participating in the draw are tremendous. €115 out of every ticket sold after the initial levy and prize fund goes directly to your club. For example if your club sells another 100 tickets, then your club generates €11,500 for itself with no outlay".
So, get your ticket today!!
For further information please contact any committee member of your local GAA club or the Laois GAA Office (057-86-60674).
By Laois PRO
Thu 30th Mar